Make reservations NOW!
CALL (239) 405-8566

THE RESERVATION OFFICE IS OPEN
FROM 10AM TO 10PM
TUESDAY THROUGH SATURDAY!
CALL (239) 405-8566

---
---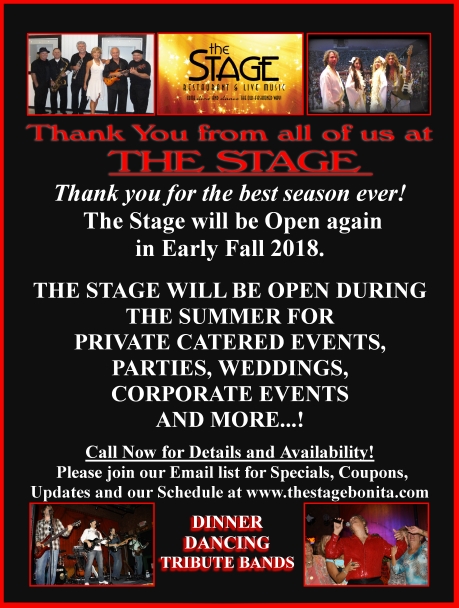 ---
*FOLLOW US ON OUR NEW TWITTER ACCOUNT*
GET CURRENT UPDATES & DISCOUNTS!



*Email request does not guarantee a reservation until conformations
are received from the stage reservationist.
Seating includes dinner, cover and guaranteed seating
Please indicate general or preferred seating.
Please indicate arrival time for dinner seating.....5:45pm, 6pm, 6:15pm etc...
show starts approx 7:30pm
no reservations accepted for cover tickets....first come-first serve
Frequently Asked Questions



1. What time do the tribute acts begin?
730pm. This way we can get most of the guest seated.

2. Do you have a seating chart?
The best seating is on a first-to-reserve basis.

3. What is the price?
Show prices range from 39 to 79 dollars and up depending cost of the entertainment.
Show tickets includes cover charge, dinner and guaranteed seating.
The different price is determined by the cost of the act performing at the Stage on a given evening.
The Stage does offer preferred seating at a 10 dollar surcharge.
The dinner is a three course dinner that includes a choice of 5 to 7 entree's.
Example, if you choose prime rib, you would get choice of potato, side salad,
veg of day, dinner rolls and a restaurant dessert.
For salad lovers, you can choose a large entree salad for your meal that includes
dinner rolls, choice of potato and a dessert.

4. Can I bring children?
Yes, children are welcome at The Stage, however we do not allow children under 16 on the dance floor
or under 21 at the bar.

5. Are the shows adult rated?
Most of the shows are for all ages.

6. Can we just show up without RSVP?
Yes, with a small cover at the door. however we only make reservations for dinner show.

7. Do all shows have a full band? No, some shows are up and personal with a single tribute.

8. Can I book a large party?
Yes, up to 60 guest or more with special arrangements.

9. How far in advance can I book a show?
We take reservations up to 60 days in advance.

10. Can we make reservations for a late dinner and show?
Yes, most shows run until 9:00 - 10pm and dinner is served until 9:00pm.

11. If I just pay cover can I get dinner?
Yes, at a discounted price, however the best value is to purchase dinner and cover combined.

12. What type of dinner do you serve? Its an upgraded multi-choice entree with potato, Veg, Salad and restaurant dessert.

13. How do I get tickets?
Just call or email!

14. Is there always a cover charge?
On most occasions, however we do offer some free acts on special evenings.

15. Do you have specials or coupons?
Yes, if you join our email list some tribute shows are free as a way to say thank you to our email customers.

16. How early can I arrive?
Dinner seating seating can start as early as 5:45pm or 5:00pm for early cocktails at the bar area.

17. Do I give up my table after dinner?
No, its your table or booth for the entire evening.

18. Will I be able to see the show?
Up to 95 percent of the seating has a view of the entertainment.

19. When I RSVP and some of my quest cancel is there a surcharge?
We understand things happen, however as a courtesy guest are expected
to let the reservationist know 24 hours prior to event.
A 10 dollar dinner seat surcharge will be deducted from your reservation deposit
for each guest no show at time of event without prior 24 hour notice.

20. Do your shows sell out?
Yes some do and that's why its important to reserve early as possible.

21. How can I get on your email list?
That's easy, just go to the bottom of this page and insert your email address in the subscription form!

22. Do people dance during a tribute show?
Yes! Lots of dancing
It also depends on the song and sometimes the entertainer is talking about
the band or person they represent. watch or dance, its all good!
MAKE RESERVATIONS HERE*
*Email request does not guarantee a reservation until conformations received from the stage reservationist.
Seating includes dinner, cover and guaranteed seating
Please indicate general or preferred seating.
Please indicate arrival time for dinner seating.....5:45pm, 6pm, 6:15pm etc...
show starts approx 7:30pm
no reservations accepted for cover tickets....first come-first serve
---
Get automatic email updates from The Stage:

Sign up Now for Email Updates, Coupons, Special Savings
and Advance Entertainment News